PPO powered off-road transport vehicles for Senegal

DAJOLKA is advisor and subcontractor for the Norwegian company Green Trac, who has developed the exceptional GT multi platform vehicle concept. GT means "Getting There", and tells that these vehicles can drive Off the Road to remote places, solving difficult transportation tasks.
Several prototypes has been operating for years in Norway - one of them with a VW engine modified to PPO.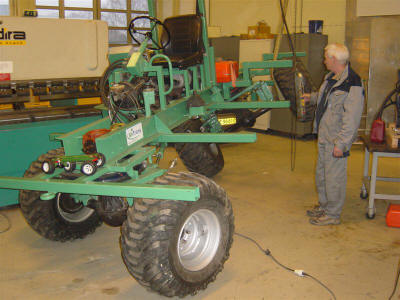 Svein Lie demonstrates the flexibility of the proto type vehicle, equiped with a VW PPO engine.
In 2007 Green Trac will deliver 5 GT"s for the PROGEED project in Senegal. The vehicles are going to solve a need for off-road transportation in a sustainable charcoal production. The 5 vehicles has been equiped with Deutz engines with a 2-tank system, enabling the vehicles to run on diesel or PPO.

Herman Qvam controling the load

Svein Lie adjusting the engine

Testing the engine power via the vehicles PTO, at the Norwegian University of Life Sciences (UMB), Dept. of Mathematical Sciences and Technology (IMT)
A GT vehicle will be demonstrated at the
Read more about Green Trac and the GT"s here:
http://greentrac.org/
Read more about the vehicles for senegal here:
"Multi-Energy Service Delivery Vehicle"
http://go.worldbank.org/01ZLCX1GW0
---
DAJOLKA, Dalmosevej 2, DK-9330 Dronninglund, Denmark. Contact person: Niels Ansų
ph.: +45 98854220, mob.ph.: +45 4241 5139, email: info@dajolka.dk
© 2017 www.DAJOLKA.dk , www.DAJOLKA.net