FACT - Fuels from Agriculture in Communal Technology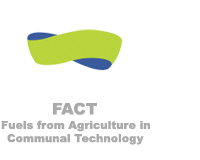 FACT Foundation assists partners in developing countries with know-how for the production, use and commercialisation of biofuels for local development. Biofuels can greatly enhance the energy supply in developing countries, reduce the dependence on fossil fuel, increase local farmers' income and improve quality of life.
FACT Foundation is a network organisation linking counterparts world-wide. FACT executes field projects in several developing countries and has embarked on a comprehensive Jatropha research programme. FACT has set itself the goal to become the world knowledge centre on biofuels for local development.
DAJOLKA is member of FACT's Advisory Board
Read more about FACT on http://www.fact-fuels.org
---
DAJOLKA, Dalmosevej 2, DK-9330 Dronninglund, Denmark. Contact person: Niels Ansų
ph.: +45 98854220, mob.ph.: +45 4241 5139, email: info@dajolka.dk
© 2017 www.DAJOLKA.dk , www.DAJOLKA.net